Fabian has been selling luxury real estate with a commitment to excellence for many years, delivering the highest level of service and unmatched marketing expertise.
Fabian's clients and colleagues recognize him as a Powerful Real Estate Agent who offers experience, negotiation skills, intense knowledge and proudly achieved record - breaking sales making his unique mark on The Ultra Luxury Condo Market in Brickell-Miami.
Fabian is being consistently awarded by Fortune International Realty as a Top Producer for the Company.
Fabian concentrate on providing his clients with accurate information and solid guidance. His unparallel quality of service is far more important than the quantity and he will go above and beyond any expectation you may have. Fabian's partnership represents a unique and dynamic combination of success, expertise and experience. Fabian is a distinguish and sophisticated professionals who is committed to redefining personal service.
Fabian is licensed professionals and is member in good standing of the National Association of Realtors, the Florida Association of Realtors, and the Realtor Association of Greater Miami and The Beaches.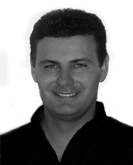 Fabian A. Dominguez, P.A.
Born and raised in Buenos Aires Argentina, Fabian has earned with honors a Bachelor Degree in Architecture and Urban Planning from the University of Buenos Aires (FAU-UBA). Combining his Architecture expertise with Miami Real Estate Business makes him stand out from the rest giving him the knowledge and education to offer to his clients the finest Residential Real Estate Services available.
Considered one of the most exclusive Multimillion Dollar Top Producers, Fabian has worked his way up to the top achieving extraordinary goals in record-breaking time.
His cultural background and previous work experience have significantly contributed to his success as a Realtor. He consistently delights buyers, sellers and colleagues with his outstanding showings presentations and strong negotiation skills.
Drive, enthusiasm and a very dynamic style of doing business are just a few of the words Fabian' s clients use to describe him.
Fabian is fluent in English and Spanish.